5 Tips for Starting Up a Manufacturing Business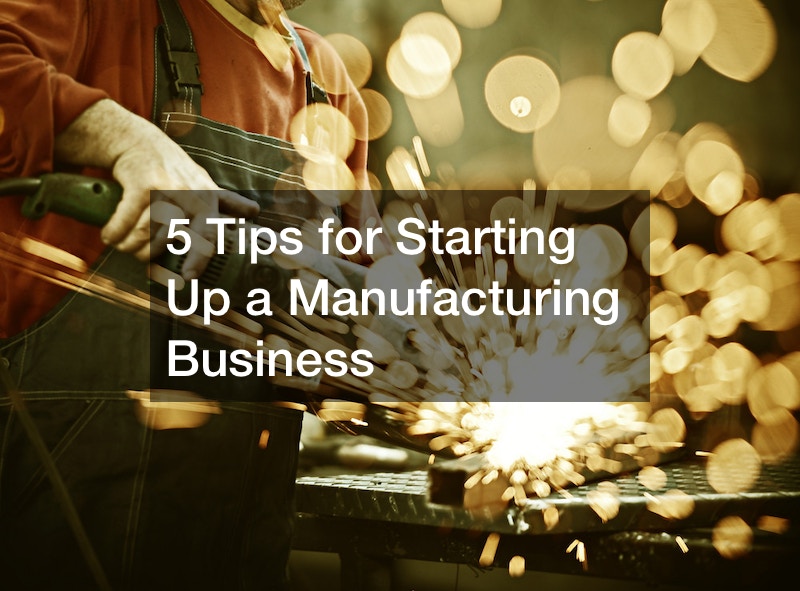 According to the National Institute of Standards and Technology, the American manufacturing industry contributed $2.3 trillion in revenue to U.S. GDP in 2021. The statistic points to a thriving sector that's the second largest globally. Starting up a manufacturing business is a perfect venture with immense potential. That said, launching a manufacturing business can seem complex without a comprehensive plan. But with the right insights, you can kick-start your venture with ease.
Whether you want to try out automobiles, machine tools manufacturing, or other manufacturing businesses, this guide is for you. It provides practical insights into starting up a manufacturing business, from different manufacturing businesses and types of equipment required to the legal frameworks and their respective costs. Let's delve in.
1. Conduct Market Research
Whether you are a first-timer or have some background in the industry, extensive research is critical before starting up a manufacturing business. The manufacturing industry is diverse and complex. You will likely make costly blunders if you start without doing your homework. Background research aims to identify gaps and opportunities in the industry.
Remember, starting a business in the manufacturing industry is a capital-intensive undertaking. Background research helps you determine the initial and running costs. The analysis further allows you to understand the operational dynamics in the industry and the specific challenges you'll likely encounter.
The most crucial part when undertaking research is disposing of industry assumptions and myths. As such, you may need to approach the study with an open mind. Once you have the requisite information, you may proceed with your plans.
2. Choose a Niche
Market research opens your minds to a better understanding of the broad nature of the industry. With that information, you can narrow your research to the niche you wish to pursue. Naturally, your background, skill set, or even work history may shape the choice of the business to pursue. Even then, you may need to scrutinize a wide range of niches to help you make an informed decision. Below are some ideal examples.
Electronics Manufacturing
The electronics manufacturing subsector is a thriving niche you can consider. Electronics development, design, and production are at the core of this business. According to the Global Newswire, the value of the electronic manufacturing services market was $503.91 billion in the year 2022. By 2030, the report estimates a protracted growth trajectory of up to $856.20 billion.
Information technology hardware is among the emerging yet highly profitable sub-branches of electronic manufacturing. To venture into the electronic manufacturing industry, you must source raw materials such as plastic and silicon, copper wiring, microchips, rare earth metals, and ceramics.
When starting up a manufacturing business in the electronics sector, you also need design and development, testing, and inspection equipment. Such equipment will vary depending on the line of electronic manufacturing you wish to take. Undertaking background research will help you understand your niche requirements better
Industrial Equipment Manufacturing
The industrial equipment subsector is among the most rewarding options. As an industrial equipment manufacturer, you can undertake design and development for equipment in the mining, energy, construction, and domestic appliances sectors. Some industry machinery you'll likely major in this niche include tools and fabrication equipment, saws, drills, hand tools, industrial ovens, and pressers.
Building Material Manufacturing
The building material supplier business is another profitable niche worth investing in as you venture out. As a manufacturer in this sector, you'll design and develop essential construction machinery for engineers. Building equipment may include tools that help cut, shape, and process building materials. Some of the most common equipment include drills and mixers.
Food Production Equipment
This is a perfect niche for you if you desire to design and develop superior culinary creations. The food production sector is still an evolving niche, so it's open to accommodate new ideas and concepts. Whether you venture into designing material handling solutions, labeling solutions such as multi-ply labels, or food preparation equipment, you may still need to stick to the highest quality standards.
Textile Manufacturing
As noted earlier, your background and passion could determine the decision to venture into a specific niche. The textile manufacturing sector is in such places where you can manifest your love for fashion. This niche requires sewing machines, looms, and fusing and weaving machines.
Cotton is the primary essential raw material in the textile manufacturing sector. You also need nylon, silk, and polyester, depending on the kind of production you intend to undertake. The textile niche is a thriving sector with a ready market globally.
Metal Fabrication<h/4>
Are you considering starting up a manufacturing business soon? Consider metal fabrication as a potential business opportunity. Metalwork manufacturing companies produce a range of valuable components, including welding and CNC machines, lathes, and other small components
A recent Data Bridge Market research reveals that the current global metal fabrication market is worth over $20 billion. Your decision to enter this sector should factor in progressive growth patterns and possible future trends.
Bolt and Nut Manufacturing
Bolts and Nuts are staple products across various industries globally. While a bolt and nut supplier may seem like a tiny drop in the global manufacturing sector, it can't do without these essential supplies. You may venture into the production of threading, cutting, and finishing of these small components.
3. Consider Equipment Requirements for Your Chosen Niche
Once you have decided on the niche you wish to venture into, the next step should be determining the equipment, tools, or manufacturing machinery required for operations. This is an important decision, considering that your choice of equipment can make or break your business.
Heavy Equipment Rental
Unless it's essential to buy, consider heavy equipment rental options. If you are starting up a manufacturing business in the construction or heavy processing industry, you may require heavy equipment from time to time, such as cranes. Renting will help you save money and storage space. In general, renting heavy equipment is cost-effective if you want to save on manufacturing costs, more so for short-term projects.
If you are starting a manufacturing business that requires working at height or in elevated areas, consider boom lift rentals. As with other heavy equipment, purchasing these lifts could be expensive. You can choose from a wide range of sizes for the lift rental providers that best suit your needs. The option allows you to save on the overall cost of manufacturing.
You may also rent a forklift if your core business involves handling and other warehouse operations. Forklifts aren't essential equipment that you might need regularly. As such, renting them, when necessary, ensures that you only incur priority costs. You, therefore, rent a forklift on a need-basis and eliminate other related costs associated with owning this helpful equipment. Luckily, you have a broad pool of equipment rental services to select from if you need quality equipment.
Go for Cheaper Used Equipment and Tools
Storage is a common headache for manufacturers, depending on the nature of production. If you are considering the overall storage equipment cost for your large production, then opting for used shipping containers for sale can solve the headache. Shipping containers are durable and spacious, and they serve multiple purposes such as storage spaces and temporary workspaces.The best part about opting for shipping containers is their cost-effectiveness. You reduce the overall cost of new construction and also save on time.
Consider Buying New Frequently Used Equipment
While you can rent equipment that you'll probably need infrequently, others are must-haves when starting up a manufacturing business. These frequently used equipment may need to be new to guarantee you a long life and efficiency. For instance, if you are venturing into a manufacturing business that involves printing and labeling, you may need to buy new equipment that can produce multi-ply labels regularly. Such titles are requisite in packaging and branding. Daily use equipment should be quality and have a warranty to minimize the recurrence of breakdowns.
4. Meet the Legal and Regulatory Requirements
While the regulatory framework governing the registration and licensing of manufacturing businesses varies depending on jurisdiction, this industry is among the most highly regulated. Ensure that you understand the legal and regulatory dynamics from the get-go. You may need to consider trade licenses, best practices, labor laws, and other regulations that may likely affect seamless business operations in the future.
Ideally, you must get a compliance certificate to show you meet manufacturing regulatory compliance. For starters, manufacturing compliance stipulates the compliance requirements allowing you to legally avail your products in the market. It also sets the procedures you must adhere to protect consumers from breaches.
According to the FDA, manufacturers in biotech, pharmaceuticals, and medical devices must adhere to requirements set out in Title 21 of the Code of Federal Regulations Part 11 requirements. When introducing a new product in the market ensure you meet the data protection, fair competition, and safety covered in the federal and state laws. These laws also require compliance with international law, export controls, and employment law.
4. Understand Your Costs
When starting up your manufacturing business, cost should be a top consideration. Ultimately, the choice of business, the type of equipment, and the overall output will depend on your cost. To effectively fund your business, you need to estimate costs.
Incorporation Costs
The first charges that will slap your face in incorporating fees if you decide to incorporate our business or form a limited company. Even if you decide to go for sole proprietorship you will need to pay for permits and licenses.
Office Space and Inventory
Next, you need funds for office space, inventory, and marketing. Unlike other businesses manufacturing online freelance isn't viable. You need a premise. As a complement need, you must factor in the cost of office furniture. And what is a manufacturing business without inventory? In fact, Nerd Wallet, inventory should take 17-25% of the total budget allocation.
Equipment
One of the realities of starting up a manufacturing business is that whether you rent equipment, settle for used alternatives, or buy new equipment for your process, the cost implication is still substantial. Rental equipment costs can have significant budgetary importance in the long term despite saving you money in a short time.
Other Costs
When starting up a manufacturing business, you'll need to consider other myriad costs including labor, premise, legal, and regulatory. Factor in fencing installation costs to your security budget. The good news is that once you address capital costs, you will likely manage the recurrent costs as the business grows. The overall cost of starting your business depends on the market, your chosen niche, and the scale or size of the company.
You can also consider the different funding options such as bank loans or venture capitalists. The high rate of business failure within the manufacturing industry is often due to the lack of a concrete funding mechanism when starting. When beginning a capital-intensive business, part of your planning process should be understanding your budget. A business plan is handy when designing and preparing to start your business.
5. Marketing your Manufacturing Business
The process of starting up a manufacturing business is progressive. Once you are done with the basics and are entirely in business, The next phase should define suitable approaches to help you market your business. Effective marketing for your manufacturing business involves getting out of your way to ensure you reach out to as many of your target clients as possible. Here are some marketing you should consider.
Have a Website
Most modern clients search for a product online before visiting the brick and mortar stores. You might miss out on the growing online customer base if you don't have an online presence. A recent report by the Forbes Advisor reveals that 20.8% of retail purchases this year will take place online. Your manufacturing business requires a corresponding landing site where online customers can check out your products and complete purchases.
Have a Vibrant Social Media Marketing Strategy
According to Forbes magazine, over 4.9 billion people are on social media. Ensuring a vibrant social media marketing strategy will market your products and provide a platform for client feedback. The best part is that social media platforms are diverse, meaning you can target different audiences on multiple social media platforms.
You may also use other marketing strategies, such as email marketing and public relations, to advertise your manufactured products. Once you define your target audience, you can then match the audience with a specific marketing platform. These approaches help push your products and boost sales.
Starting up a manufacturing business can be a thrilling yet scary undertaking. But once you decide the niche you want to venture into and conduct adequate market research, it will be easy to venture out and thrive. You only need to understand the equipment required and the cost implications for the entire project.
Once you have this in place, you only need to ensure an effective online and offline marketing strategy, and your business will be on an upward growth trajectory. Was this guide useful? Keep reading for more insightful content.